Rare and Famous Rugs – The Ardabil Carpet
by John Ahdoot 3/21/14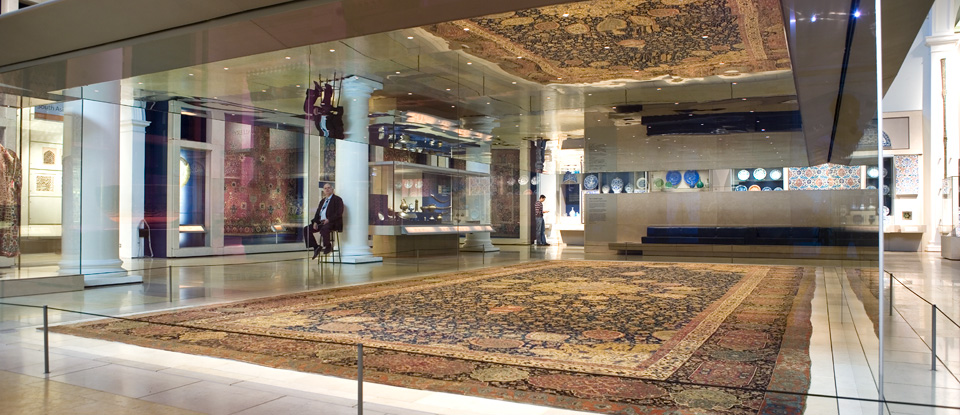 The History of the Ardabil Carpet
The Ardabil Carpet refers to either of a pair of two Persian rugs completed during the reign of the Safavid Shah Tahmasp I near Tabriz in the mid-16th century. Together, they represent the most famous and renowned rugs in Persian history. Now located in the collections of the Victoria and Albert Museum in London and the Los Angeles County Museum of Art, they were originally placed in a mosque in Ardabil.
In 1890, they were sold to a British carpet broker who restored one carpet by dismantling the other. The silk and wool pile was used to patch and replace damaged sections, and the repaired rug was then sold to the Victoria and Albert Museum in London.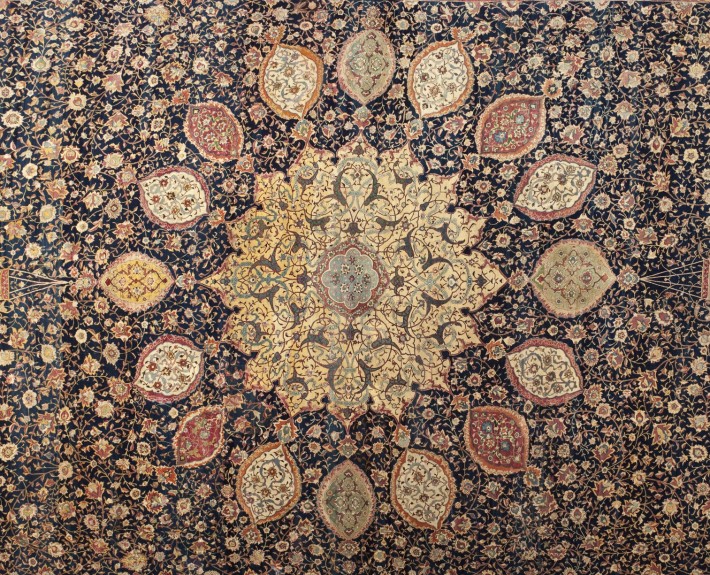 The "Secret" Carpet
The second carpet, known as the "secret" carpet, is much smaller and without a border. Much of the field is missing, as it was cobbled out from the remainder of the carpet. It was ultimately sold to an American businessman, and then changed hands for years. Visiting a number of collections, it was shown at an exhibition in London in 1931 where it changed hands again, ending up in the Museum of Science, History, and Art in the Exposition Park in Los Angeles. At one point, King Farouk of Egypt offered $250,000 for it, but was declined.
Both carpets have an inscription of a couplet from a ghazal by Hafiz Shirazi, a Persian poet, and a signature. The carpets are also noted for possessing an interesting and historically important design: the lamp motifs on either side of the center medallion is seen now as a deliberate use of graphical perspective—as seen from the end of the carpet, both lamps appear the same size, though one is significantly smaller.
Smaller fragments of the original carpet appear on the market from time to time, fetching high prices and higher interest. The pattern itself has been copied frequently in a various range of sizes, and shown by historical figures including Adolf Hitler.
Where is it now?
The completed rug, showcased in the V&A museum, is housed in the Jameel Gallery of Islamic Art, where it takes up almost the entire floor of the showroom. To preserve its color for future generations, it is only lit for ten minutes on the hour and half hour.