Back to Shop
The Savonnerie Rug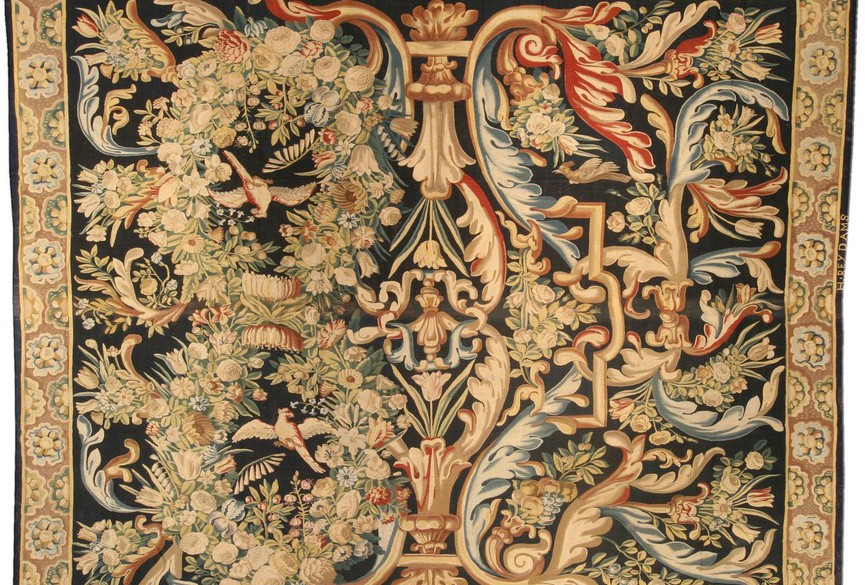 Want to talk to an expert?
THE SAVONNERIE RUG - Savonnerie carpets are constructed entirely of wool warp and weft, with silk used to accent borders.
The famous Savonnerie Manufactory, active in Paris from the 17th through the 18th centuries, stands as one of Europe's greatest centers of hand-knotted rug making. A royal workshop from its inception, it was established by Louis XIII with the express purpose of creating Turkish and Persian-inspired carpets for the French nobility. The workshop's master weaver, Pierre DuPont, traveled extensively in the eastern Mediterranean, where the region's stunningly ornate royal textiles inspired him to establish in France Europe's own, and first, truly extraordinary weaving workshop. With an exclusive royal patent, he established the massive Savonnerie Manufactory in an old Parisian soap ("Savon") factory. For years, working with some of the finest weavers in all of France, he personally oversaw production of exquisite, unparalleled carpets that, until 1768, remained exclusive property of the French Crown.
In its first century creating France's first true eastern-inspired carpets, the Savonnerie workshop received no shortage of royal attention: for the Palais de Louvre alone, Louis XVI commissioned nearly 300 carpets from the Manufactory, each woven to the astounding length of 29 feet. These exemplary rugs, like the famous Hereke royal carpets of the Ottoman Empire, not only decorated the homes of nobility, but also served as important tools in international diplomacy. The workshop operated at the behest of the French crown, and its beautiful carpets, some of the country's greatest treasures, were often created for world leaders as the highest form of French diplomatic gift.
The original royal Savonnerie rugs survive to this day, though the category as we know it refers not only to carpets made at the original Manufactory, but also to later French carpets of the 17th through 19th centuries produced in similar exemplary style up through the reign of Napoleon, famous not only for his conquests, but also for championing a renaissance of the Savonnerie form.
As these carpets descend from the original royal carpets of the French empire, it is perhaps unsurprising that Savonneries tend toward a palatial quality in both size and design. Some of the earliest examples of the form exhibit the clear influence of their classical Persian and Turkish forebears, the models so closely studied by Dupont, but over time the style developed a uniquely French quality, its motifs and colors reflecting the elegant and baroque aesthetic of the late French empire. These motifs, contrasting sharply with geometric and floral patterns of Turkish and Persian design, are often pictorial, with historic figures and landscapes forming the Savonnerie centers, themselves surrounded by medallions, royal insignia, and thick floral bouquets layered in multiple elaborate borders. Colors, too, evolved according to 17th century Parisian taste, and in time Savonnerie carpets came to be dominated by the baroque palette of royal blues set against rich ivory or light gold fields.
Savonnerie carpets are constructed entirely of wool warp and weft, with silk used to accent borders and minute details in the elaborate floral and geometric border motifs. They are densely knotted—rivaling the finest Turkish workshop rugs in knots per square inch—and tied in a remarkably durable Gordes knot, perhaps the key technique Dupont imported from his travels in Turkey.
Today, many Savonnerie carpets are museum models, though they do show up on the international market. Often in remarkable condition, especially for rugs of their age, they are among the most desirable and valuable investment European textiles available.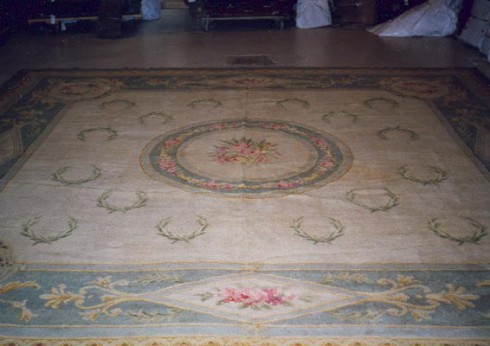 Savonnerie
12.10 ft. 12.06 ft.
item # 1276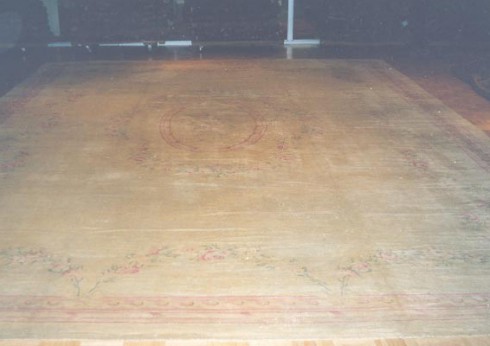 Savonnerie
13.06 ft. 20.05 ft.
item # 1365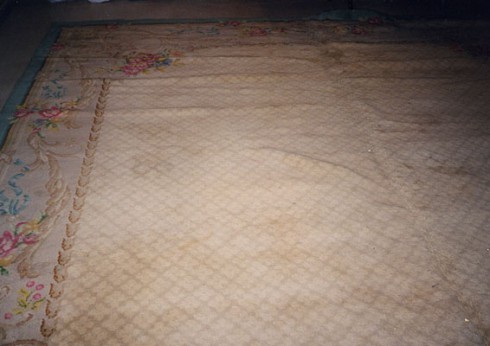 Savonnerie
12.06 ft. 20.02 ft.
item # 1569