The Top 3 Most Expensive Persian Rugs on the Market
by John Ahdoot 6/22/15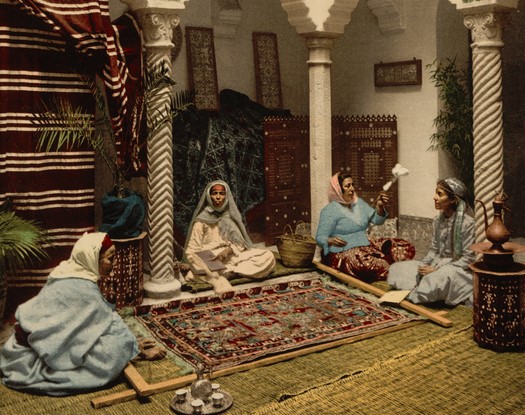 The Auctions of Antiquity
Many Persian and Oriental carpets, regardless of their antiquity, are usually within reach of collectors. Nevertheless, there are a few so rare and exquisite that only enormously wealthy rug enthusiasts could ever consider owning such a masterpiece. Today, we explore the most expensive Persian rugs to have ever made it to market, each exhibiting a beauty and history which remain absolutely unequaled in the art of rug weaving.
1. The Vanderbilt Mughal Millefleurs "Star-Lattice" Carpet: $7.7M
A particularly distinct feature among Mughal carpets was the millefleur pattern, which literally translates from French into "thousand flowers", where floral patterns are woven densely into a Mughal rug's body. Many of these rugs are considered extraordinary by collectors, yet one stands out as the quintessential Mughal carpet, not only due to the tremendous price it fetched at auction, but as a timeless example of Mughal-period artistry. Speaking on the Mughal rug, John Ahdoot said, "Mughal rugs are some of the best examples in the world of Persian carpets. Their artistry truly sets them apart from other rugs of the time – each of them exploring rich themes and exhibiting remarkable craftsmanship."
Likely produced during the 17th to 18th century, when millefleur designs were particularly popular among nobility, the Vanderbilt Mughal carpet was astonishingly well cared for while being displayed at the Vanderbilt estate for nearly a century. Retaining its innate cotton suppleness, the Mughal effectively combines silk and cotton threads tinged in natural blue, gold, pink and yellow dyes that captured the eye of enthusiasts the world over. And though the carpet has now changed hands to an anonymous bidder to the tune of $7.7 million in 2013, it still remains one of the most excellently preserved examples of the Mughal Empire.
2. The Kerman "Vase" Carpet: $9.6M
From the city and province known as Kerman in south central Iran rose one of the most stunning classifications of Persian rugs in the world. Named after the region, Kerman carpets have earned their mark as likely the finest rug in Persian history, owing much to the quality of wool derived from generations-long herders in the area. Of even greater interest to collectors of the Kerman is the wide array of designs and natural dyes used on these carpets, with no two rugs ever being exactly alike, even among those sharing a wealth of similarities. And though their ascent as celebrated pieces began around the 15th century, the production of the illustrious Kerman carpet continues to this day.
The Kerman "Vase" carpet, woven in the mid-17th century, at one time held the record for the most expensive rug ever sold at auction. While early estimates agreed it would sell for anywhere from $307,600 to $461,400, the hammer fell on a final price of just under $9.6 million in 2010 – an unheard of price for Persian rugs at the time. Displaying a balance of design and coloring that left potential buyers in awe, the Kerman featured scrolled leaves and palmettes on a thin black border, enclosing a blue field covered in curving toothed leaves that ran along its length. Hailing from Iran, John Ahdoot had this to say about Kerman weavers, "These weavers often come from a long line of artists, who pass on this talent to their children, and each time make improvements in the process and sourcing of materials. Each rug's history goes beyond the age of the rug – it's displayed in the complex art of the rug itself."
3. The Clark Sickle-Leaf Carpet: $33.8M
Assumed by curators to be a Kerman produced in the first half of the 17th century much like the previous record-holder, the Clark Sickle-Leaf carpet took the Persian rug community by storm in 2013. Its display of intricate swirling vines which interlace vibrantly with flowering and fruited branches overlapping an exquisite and highly rare crimson field makes the rug truly one-of-a-kind. Also rare is the use of a symmetrical pairing of horizontal designs, where palmettes correspond on either side; yet, the rug is also asymmetrical overall, likely a twin to another undiscovered carpet that would mirror its design, and combining into a longer piece. John Ahdoot shares his thoughts on the Clark Sickle-Leaf, "Provenance sometimes plays as much a part in a rug's value as its condition and rarity. In this case, being owned by such a well-known figure who was also a philanthropist no doubt had some effect on the final auction price."
Originally owned by William Andrews Clark, Sr., a billionaire industrialist and politician from whom the carpet derived its name, the Clark Sickle-Leaf was purchased in the early 1900's at the height of Clark's success. It was later donated to the Corcoran Museum in 1926 after Clark's death, and was for most of the years following placed in a climate-controlled storage when not on display at the museum for short periods. Finally, in an effort to raise funds, the piece was set for auction at Sotheby's whose own auctioneer assumed would fetch between $10 and $15 million, yet sold to an anonymous phone bidder for $33.8M. Here, the dynamic and resplendent colors combined with a rare spectacle of workmanship and design to deliver what may hold itself as the auction frontrunner for many years to come.
Visit our store or view Ahdoot's online gallery of Persian and Oriental rugs to see the stunning antique and contemporary carpets designed to perfectly complement your home or office décor.