Which Oriental Rugs Gain the Most Value over Time
by David Parker 10/03/15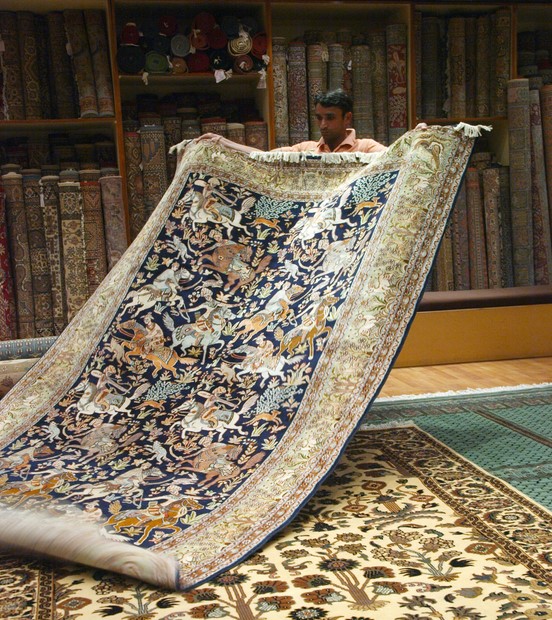 The evolution from a rug enthusiast to a genuine collector can be a very enjoyable journey. At Ahdoot, we always encourage anyone who is interested in learning about antique and modern carpets to do their homework before making a purchase. This includes purchasing a rug solely for its aesthetic value. Yet, when it comes to selecting an Oriental rug as an investment, either for short- or long-term gains, there are a few important things to look for.
Areas of Origin
In the world of Oriental rugs, Persian rugs tend to be the most sought-after. While sanctions in recent decades have kept many new and antique Persian rugs from making it to the United States, there are still a wide number readily available. Some of the most notable cities of manufacture include Qom, Nain, Isfahan and Tabriz – each of which tend to produce rugs of the highest quality and workmanship.
Outside of Iran, however, other areas such as Afghanistan and parts of Asia produce stunning handcrafted rugs through families and tribes dedicated to the art. Though they may be more rugged than their Persian counterparts, largely due to the types of materials being utilized, they often feature more distinct designs and a more artisanal approach the work.
Age as a Factor
Most carpets that are considered a collectible or a sound investment are more than 30 years old, which certainly includes antique rugs that were created more than 80 years ago. Yet, while age is noteworthy, how a rug is produced plays as important a role in determining its continuing appreciation.
Any antique Oriental, Persian or Turkish rug which is hand-knotted, finely constructed and well-preserved will see its value increase over time. This includes carpets produced in recent years. If the materials are of the finest quality, it exhibits extraordinary workmanship and the colors and designs are tastefully arranged, even modern rugs can see tremendous gains in their value as an investment.
Be an Enthusiast First
Before making your final purchase, be sure to compare at least 3-4 rugs that speak to you as an enthusiast rather than as an investor. Since you will be keeping the rug for some time, either as a family heirloom or for sale at a later date, your investment should be a rug you feel passionate about beyond its monetary value. First and foremost, you will want to have a profound adoration for your rug's beauty and craftsmanship – which will give it more worth to you, and ultimately its future owners.
The owner of Ahdoot Oriental Rugs, John Ahdoot, echoes this advice, saying:
A great deal of energy and time is put into selecting an appropriate rug for an investment. If you're not choosing a rug for the right reasons, you may find the process to be more trouble than it is worth. If you love the rug, however, you'll unquestionably love everything about the search, and eventually, the end discovery.