Antique vs Modern Oriental Rugs
by John Ahdoot 6/29/15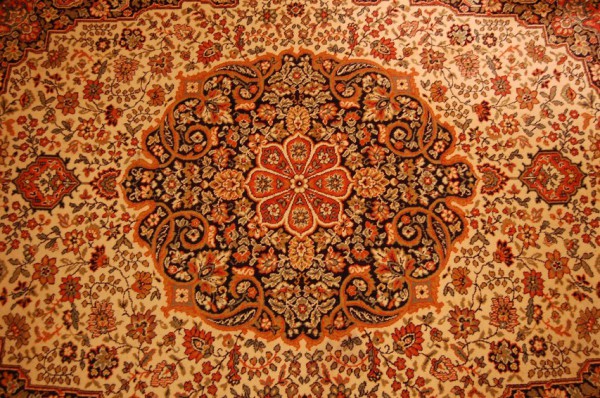 What Separates the Old From the Young
In the vast world of Oriental and Persian rugs, a myriad of profound differences exist, whether speaking of their designs, materials or workmanship. Beyond these, one of the more distinct dissimilarities that exist is a rug's age, which ultimately denotes it as either being an antique or modern iteration.
Many renowned rug scholars consider Oriental and Persian rugs produced before the 1920's to be antique, with everything coming after this period deemed modern. The sole reason for the designation relies on changes in the market that developed during that time, when the popularity of carpets increased so significantly in the West that mass production was the only way to meet demand. This led to changes in the way a large majority of rugs were being created, and ultimately, the quality of the pieces being brought to the U.S.
Below are some of the easiest ways to differentiate the two, and what it means to someone investing in an Oriental rug.
 

Color
Antique:
Without having access to synthetic dyes, early rug weavers were limited to whatever was available in the plant and animal kingdom to create their rug's palette. Commonly, the creation of these colors were passed down from generation to generation, resulting in rich, natural hues that stood the test of time, and only diminished from misuse or intense solar exposure.
John Ahdoot, owner of Ahdoot Oriental Rugs, offers advice on how to keep your antique rug's dyes from fading, "Simply put, sunlight is the worst offender when it comes to fading. Having your Oriental rug in a well-lit room is a great idea, as ample natural light brings out the best in a rug's colors – but make sure it's not being exposed directly to the light coming in from the windows to keep it looking great for years to come."
Modern:
The one benefit of synthetic dyes, which nearly all modern carpets utilize, is their durability. Though they don't exhibit the innate richness of a natural dye, they will often endure in high traffic or well-lit areas for longer periods. Many who collect modern carpets aren't searching for a family heirloom or investment as much as they are looking for a complement to their home's décor.
Technique
Antique:
While there are disparities in the number of knots-per-inch (KPI) in carpets of antiquity, nearly every single rug ever produced prior to the 1920's was woven on a loom, by hand, and by a single weaver. Sometimes this resulted in small errors during its manufacture – yet, these "errors" have at times been observed as a mark of an artist's slight imperfections, which is often sought after in high-end, handcrafted objects.
Modern:
Handwoven carpets are still being produced to this day; however, most of what is available in the modern Oriental rug market are manufactured on machines which mass produce these articles for sale. Of machine-made carpets, John Ahdoot shares his thoughts, "These types of rugs are a good choice for someone who wants a decorative piece without concerns about its value. Machine-made rugs come in a lot of different styles and colors, but they have little to no resale value once they're purchased. Beyond that, antique rugs are more interesting because they're not merely decorations – they are art that tells a story."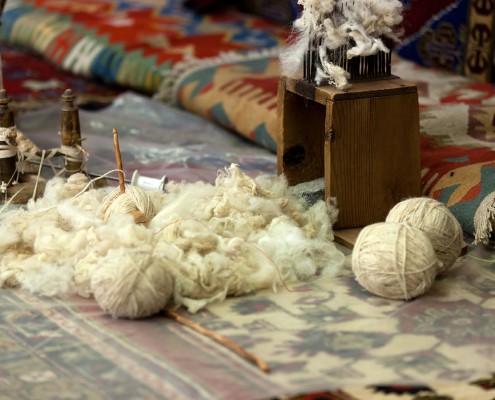 Material
Antique:
Oriental and Persian rugs are almost wholly defined by the quality of their materials, whether they employ the use of silk, cotton, wool or other elements during their manufacture. For example, a pile made of extremely superior wool, which has been painstakingly twisted into beautiful threads, and then intricately woven into a design provides a luster and patina not found in those of lesser quality materials.
Modern:
Though exceptions exist in the modern rug market, many modern carpets consist of wool and other materials which have been sourced from "wool farms" where quality is less important than cost. According to John, a great way to tell if your rug contains fine materials is, "Look at the rug before having it vacuumed or cleaned. Are there tufts of hair pulling away from the carpet? If so, this is a sign of poor material quality, and possibly poor workmanship. Rather than using long, healthy strands of wool that were tightly wound together, the producer elected to use substandard materials and practices."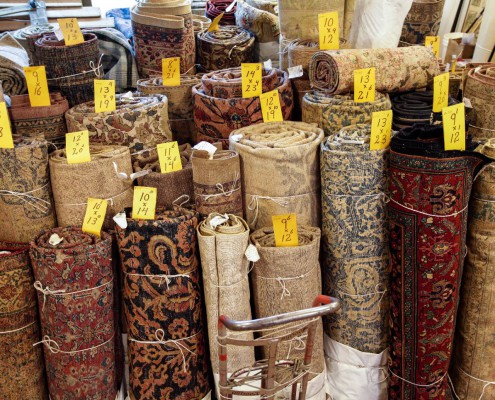 Value
Antique:
Understandably, the biggest difference existing between antique and modern rugs is their value. As much as quality, workmanship and preservation play a tremendous role in a carpet's price, its period of manufacture means a lot to collectors. Overall, well-kept antique rugs are far more valuable than modern rugs, and often have an added value attached depending on who owned the carpet previously. Owning an antique rug is no guarantee it's going to be extremely valuable, but the chances are certainly much higher.
Modern:
There are a number of modern rugs from certain areas of the world which exemplify early weaving practices and the use of quality materials. These rugs, undoubtedly, will increase in value over time. However, many modern rugs are viewed as simple accent pieces in homes and offices, and as such, will never increase in value over their lifetime. Of course, this may be ideal for those who want the look without the associated cost. John echoes this sentiment, saying, "Machine-made rugs are in demand right now because they're very inexpensive, but they also only last roughly 2-3 years before the owner throws them out and purchases a new one. If you want something for the long-term, a handmade rug, even if it's something from the last few decades, is the way to go."
Come to our showroom or visit our online gallery to view extraordinary Persian and Oriental carpets from around the world. Ahdoot offers every service available to rug collectors and enthusiasts, including cleaning, repair and appraisal on any carpet you purchase or already own. Visit us today!